Momen Paling Seru di Grammy Awards 2017
Genmuda – Ajang Grammy Awards berlangsung di Staples Center Los Angeles Amerika Serikat,  Minggu malam (12/2) waktu setempat dengan meriah. Karena perbedaan waktu, acaranya masih berlangsung di Indonesia sampai Senin siang.
Ada banyak kejadian memorable terjadi sepanjang acara, mulai dari pengulangan aksi live, mikrofon mati, hingga anak indie yang kegirangan karena dapet banyak penghargaan. Langsung aja Kawan Muda liat momen serunya di bawah ini.
1. Adele mengulang penampilannya
Adele terpaksa mengulang penampilan live tribute untuk George Michaels karena doi ngerasa suaranya agak fals di awal. Di tengah-tengah nyanyi, doi mengumpat F word, dan minta penampilannya diulang.
"Mohon maaf karena harus mengumpat dan mengulang di tengah siaran live. Saya tidak mau penampilan saya buruk. George Michael adalah idola saya. Harus penampilan terbaik yang diberikan," kata Adele.
Hasilnya, penonton malah maklum sama tekadnya tampil perfect. Dalam sepuluh tahun terakhir, mungkin cuma Adele yang bisa mengumpat di acara formal yang ditonton jutaan orang dan turun panggung tanpa kena kritik. You go, girl!
2. James Hetfield ngamuk karena kesalahan teknis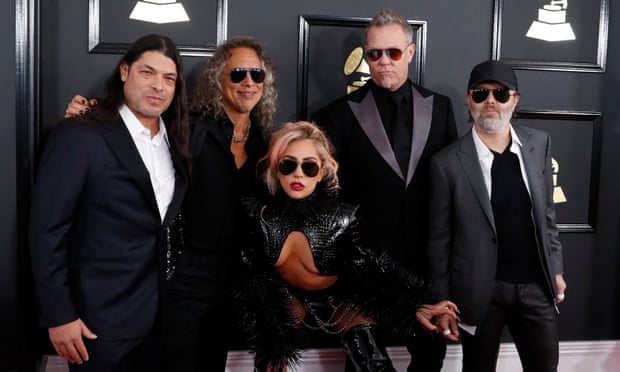 Lady Gaga dapet jatah berkolaborasi sama Metallica ngebawain "Moth into Flame" di Grammy 2017. Mother Monster sukses tunjukin profesionalitasnya di antara band metal paling tua dan intimidatif di dunia itu. Sementara itu, James Hetfield si vokalis Metallica harus menelan emosinya.
Mikrofonnya mati di tengah penampilan. Hetfield terpaksa nyanyi satu mik dengan Gaga. Pengalamannya bikin sharing mic itu keliatan seperti aksi panggung, tapi sorot matanya ke arah teknisi di belakang panggung jelas penuh amarah.
Meski begitu, mood di atas panggung tetep terjaga, kok. Hetfield baru tunjukin emosinya ketika ngelempar gitar ke teknisi waktu turun panggung. Untung bisa langsung gercep ditangkep.
3. Twenty One Pilot kalah taruhan dengan gembira
Waktu belum seterkenal sekarang, anak-anak Twenty One Pilot pernah bikin taruhan konyol. Kalo mereka sampai menang Grammy, serah-terima pialanya bakal dilakuin dengan bokser doang.
Berhubung mereka dapet pernghargaan best pop duo-group performance, Tyler Joseph dan Josh Dun harus menanggalkan celana mereka buat berpidato di atas panggung. Keduanya sama sekali engga malu tuh, malah senyumnya lebar banget.
4. Bowie menghantui
Mendiang David Bowie menyabet 5 penghargaan lewat album "Blackstar," yaitu best rock song, best rock performance, best alt music album, best recording package, dan best engineered album.
Bagi musisi folk yang pindah haluan ke glam rock itu, penghargaan ini adalah yang pertama kalinya sejak sekitar 50 tahun melanglang buana di dunia musik. Jasadnya udah dikebumikan dan rohnya mungkin udah di akhirat, tapi David Bowie sukses menghantui dan buktiin dirinya patut dibilang  legend.
5. Chance the Rapper take the chance
Seperti halnya Adele, Chance the Rapper juga mencetak sejarah dalam dekade terakhir. Doi raih penghargaan best rap performance, best rap album, dan best new artist, meski melaju di jalur indie. Mantap lah, Chance!
Berikut daftar pemenang Grammy Awards 2017
Album of the Year
Record of the Year
Song of the Year
Best Rap Album
Chance the Rapper – Coloring Book
Best Urban Contemporary Album
Best Country Solo Performance
Maren Morris – "My Church"
Best Rock Song
David Bowie, songwriter (David Bowie) – "Blackstar"
Best Pop Duo/Group Performance
Twenty One Pilots – "Stressed Out"
Best New Artist
Producer of the Year, Non-Classical:
Best Pop Vocal Album:
Best Traditional Pop Vocal Album:
Willie Nelson – Summertime: Willie Nelson Sings Gershwin
Best Pop Solo Performance:
Best Alternative Music Album:
Best Rock Album:
Cage the Elephant – Tell Me I'm Pretty
Best Metal Performance:
Best Rock Performance:
David Bowie – "Blackstar"
Best Rap Song:
Aubrey Graham & Paul Jefferies, songwriters (Drake) – "Hotline Bling"
Best Rap/Sung Performance:
Best Rap Performance:
Chance the Rapper "No Problem" [ft. Lil Wayne & 2 Chainz]
Best R&B Album:
Lalah Hathaway – Lalah Hathaway Live
Best R&B Song:
Hod David & Musze, songwriters (Maxwell) – "Lake By the Ocean"
Best Traditional R&B Performance:
Best R&B Performance:
Solange – "Cranes in the Sky"
Best Comedy Album:
Patton Oswalt – Talking for Clapping
Best Reggae Album:
Ziggy Marley – Ziggy Marley
Best Regional Roots Music Album:
Best Folk Album:
Sarah Jarosz – Undercurrent
Best Contemporary Blues Album:
Fantastic Negrito – The Last Days of Oakland
Best Traditional Blues Album:
Bobby Rush – Porcupine Meat
Best Bluegrass Album:
O'Connor Band With Mark O'Connor – Coming Home
Best Americana Album:
William Bell – This Is Where I Live
Best American Roots Song:
Vince Gill, songwriter (The Time Jumpers) – "Kid Sister"
Best American Roots Performance:
Sarah Jarosz – "House of Mercy"
Best Tropical Latin Album:
Jose Lugo & Guasábara Combo – Donde Están?
Best Regional Mexican Music Album (Including Tejano):
Vicente Fernández – Un Azteca En El Azteca, Vol. 1 (En Vivo)
Best Latin Rock, Urban or Alternative Album:
Best Latin Pop Album:
Jesse & Joy – Un Besito Mas
Best Country Album:
Sturgill Simpson – A Sailor's Guide to Earth
Best Country Song:
Lori McKenna, songwriter (Tim McGraw) – "Humble and Kind"
Best Country Duo/Group Performance:
Pentatonix – "Jolene" [ft. Dolly Parton]
Best Roots Gospel Album:
Best Latin Jazz Album:
Chucho Valdés – Tribute to Irakere: Live in Marciac
Best Large Jazz Ensemble Album:
Ted Nash Big Band – Presidential Suite: Eight Variations on Freedom
Best Jazz Instrumental Album:
John Scofield – Country for Old Men
Best Jazz Vocal Album:
Gregory Porter – Take Me to the Alley
Best Improvised Jazz Solo:
John Scofield, soloist – "I'm So Lonesome I Could Cry"
Contemporary Instrumental:
Snarky Puppy – Culcha Vulcha
Best Dance/Electronic Album:
Best Dance Recording:
The Chainsmokers "Don't Let Me Down" [ft. Daya]
Best Classical Solo Vocal Album:
Dorothea Röschmann; Mitsuko Uchida, accompanist – Schmann & Berg (tie)
Ian Bostridge; Antonio Pappano, accompanist (Michael Collins, Elizabeth Kenny, Lawrence Power & Adam Walker) – Shakespeare Songs (tie)
Best Classical Compendium:
Giancarlo Guerrero, conductor; Tim Handley, producer – Daugherty: Tales Of Hemingway; American Gothic; Once Upon A Castle
Best Classical Instrumental Solo:
Zuill Bailey; Giancarlo Guerrero, conductor (Nashville Symphony) – Daugherty: Tales Of Hemingway
Best Chamber Music/Small Ensemble Performance:
Best Choral Performance:
Krzysztof Penderecki, conductor; Henryk Wojnarowski, choir director (Nikolay Didenko, Agnieszka Rehlis & Johanna Rusanen; Warsaw Philharmonic Orchestra; Warsaw Philharmonic Choir) – Penderecki Conducts Penderecki, Volume 1
Best Opera Recording:
James Conlon, conductor; Joshua Guerrero, Christopher Maltman, Lucas Meachem, Patricia Racette, Lucy Schaufer & Guanqun Yu; Blanton Alspaugh, producer (LA Opera Orchestra; LA Opera Chorus) – Corigliano: The Ghosts Of Versailles
Best Orchestra Performance:
Andris Nelsons, conductor (Boston Symphony Orchestra) – Shostakovich: Under Stalin's Shadow – Symphonies Nos. 5, 8 & 9
Producer of the Year, Classical:
Best Engineered Album, Classical:
Mark Donahue, Fred Vogler & David L Williams, engineers (James Conlon, Guanqun Yu, Joshua Guerrero, Patricia Racette, Christopher Maltman, Lucy Schaufer, Lucas Meachem, LA Opera Chorus & Orchestra) – Corigliano: The Ghosts of Versailles
Best Music Film:
The Beatles – The Beatles: Eight Days a Week the Touring Years
Best Music Video:
Best Spoken Word Album (Includes Poetry, Audio Books & Storytelling):
Carol Burnett – In Such Good Company: Eleven Years of Laughter, Mayhem, and Fun in the Sandbox
Best Children's Album:
Secret Agent 23 Skidoo – Infinity Plus One
Best World Music Album:
 Yo-Yo Ma & the Silk Road Ensemble – Sing Me Home
Best Contemporary Christian Music Album:
 Hillary Scott & the Scott Family – Love Remains
Best Gospel Album:
Kirk Franklin – Losing My Religion
Best Contemporary Christian Music Performance/Song:
Hillary Scott & the Scott Family; Bernie Herms, Hillary Scott & Emily Weisband, songwriters – "Thy Will"
Best Gospel Performance/Song:
Tamela Mann; Kirk Franklin, songwriter – "God Provides" [WINNER]
Best New Age Album:
Best Surround Sound Album:
Alexander Lipay & Dmitriy Lipay, surround mix engineers; Dmitriy Lipay, surround mastering engineer; Dmitriy Lipay, surround producer (Ludovic Morlot & Seattle Symphony) – Dutilleux: Sur La Même Accord; Les Citations; Mystère de L'instant & Timbres, Espace, Mouvement
Best Remixed Recording:
André Allen Anjos, remixer (Bob Moses) – "Tearing Me Up (RAC Remix)"
Best Engineered Album, Non-Classical:
David Bowie, Tom Elmhirst, Kevin Killen & Tony Visconti, engineers; Joe LaPorta, mastering engineer (David Bowie) – Blackstar
Best Historical Album:
Steve Berkowitz & Jeff Rosen, compilation producers; Mark Wilder, mastering engineer (Bob Dylan) – The Cutting Edge 1965-1966: The Bootleg Series, Vol. 12 (Collector's Edition)
Best Album Notes:
Ken Bloom & Richard Carlin, album notes writers (Eubie Blake & Noble Sissle) – Sissle and Blake Sing Shuffle Along
Best Boxed or Special Limited Edition Package:
Gérard Lo Monaco, art director (Edith Piaf) – Edith Piaf 1915-2015
Best Recording Package:
Jonathan Barnbrook, art director (David Bowie) – Blackstar
Best Arrangement, Instruments and Vocals:
Jacob Collier, arranger (Jacob Collier) – "Flintstones"
Best Arrangement, Instrumental or A Cappella:
Jacob Collier, arranger (Jacob Collier) – "You and I"
Best Instrumental Composition:
Ted Nash, composer (Ted Nash Big Band) – "Spoken at Midnight"
Best Song Written for Visual Media:
Max Martin, Shellback & Justin Timberlake, songwriters (Justin Timberlake, Anna Kendrick, Gwen Stefani, James Corden, Zooey Deschanel, Walt Dohrn, Ron Funches, Caroline Hjelt, Aino Jawo, Christopher Mintz-Plasse & Kunal Nayyar), Track from: Trolls – "Can't Stop the Feeling!"
Best Score Soundtrack for Visual Media:
John Williams, composer – Star Wars: the Force Awakens
Best Compilation Soundtrack for Visual Media:
Miles Davis & Various Artists; Steve Berkowitz, Don Cheadle & Robert Glasper, compilation producers – Miles Ahead
Best Musical Theater Album:
Danielle Brooks, Cynthia Erivo & Jennifer Hudson, principal soloists; Stephen Bray, Van Dean, Frank Filipetti, Roy Furman, Joan Raffe, Scott Sanders & Jhett Tolentino, producers (Stephen Bray, Brenda Russell & Allee Willis, composers/lyricists) (New Broadway Cast) – The Color Purple
*red- update Senin (13/2) pukul 15.00 WIB. (sds)
Comments
comments